Welcome to our evolving dimension
We are a group of thinkers and creatives who develop the identity of your company with enthusiasm and love. In a world that moves ever faster towards the latest digital frontiers, we like to stop and reflect. We serve international clients in need of cutting-edge digital solutions. We push digital and real-life boundaries to achieve exceptional results. At 24target, we develop bespoke online marketing strategies that enable your business to achieve increased sales and a solid return on investment. A refined selection of marketing tools is used to promote your business online for short-term solutions and long-term gains.
Our mood is simple:

We are passionate about crafted digital solutions
Attention

to the customer and the market – we firmly believe that the only way to deliver an excellent service is to listen to the needs of customers and the market.
Passion

for our work, people and above all for our customers.
Proficiency

in finding the best solution in the shortest time possible.
How can we make you shine?
Simple!
We analyse and then develop the best ad hoc strategy with a creative and rigorously tailor-made approach.
Strategy development
Once we understand the digital ecosystem in which the brand lives, we move on to the strategic development. A marketing strategy is a business's overall game plan for reaching people and turning them into customers. The marketing strategy of a company includes the company's value proposition, key marketing messages, information on the target customer and other high-level elements. Using tools such as positioning maps, brand funnels, Kapferer's prism and mood boards to study and consequently position a brand, we develop and communicate your brand strategy in the best-possible way.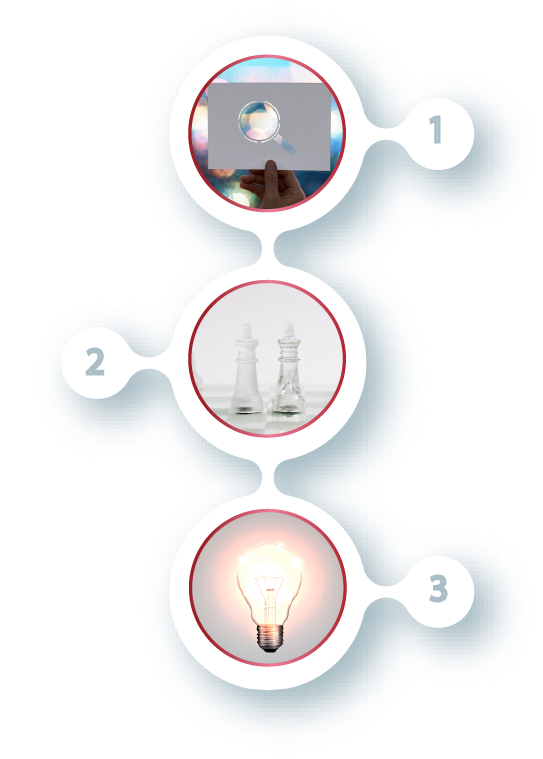 Analysis
A marketing analysis is a study of the dynamism of a market, examining the attractiveness of a market for a specific industry. Essentially, marketing analysis provides a business plan that presents information regarding the market in which you are operating. It looks at various factors. The most common are the SWOT – strengths, weaknesses, opportunities and threats. By assessing the company's strengths and weaknesses, we understand the factors on which the marketing strategy should be based. We analyse the perception of your brand, direct and indirect competitors, market dynamics, and various trends. The wider the landscape, the better the solution will be.
Creative implementation
Whether you're launching a new brand, devising a social media strategy or creating an app, we make every possible effort to ensure you achieve an excellent final result. In a world full of content, we want to provide your company with a unique voice. We take creative risks with our campaigns so that you gain the attention you need to distinguish yourself from the competition. Fuelled by strategic insights, our creative work spans everything from art direction to final delivery.